Ebeam for LCD & Flat Panel Displays
Ebeam Not Just for Whiteboards
We have previously made the eBeam Edge from Luidia our Editor's Choice for smartboard technology. Much of this is because of the packaging of the product that makes it so amazingly portable and usable on almost any flat surface. Over the life of our website, we have had many requests to use the system on flat panel displays. Interestingly, this is not a supported configuration from Luidia. We think this could be a very cost-effective way to add interactivity to larger displays and TVs. After all, a pen interface is much more natural (and the writing is much more clear) for whiteboarding or annotating than touch, and avoids the ick-factor of finger-smeared displays.
Ebeam on a 92inch Mitsubishi screen DLP Display

From what we understand, Luidia wants to guarantee great user experiences all of the time for their customers, and there are some situations in which a flat panel display will offer inconsistent results. The primary cause of inconsistencies is from the heat that emanates from a display. This makes most plasma displays unusable with the eBeam and we would not recommend the use with a plasma display. With that being said, we do have customers that use the system with plasma displays with good results so long as the display is not used for long periods of time (heating up) and the display is not larger than 42″; though we have reports of people being happy with eBeam performance on up to 50 inch displays. Additionally, rear-view projection systems seem to work really well, and have virtually no size restrictions. of 92inch Mitsubishi screen in use at InfoComm)
Ebeam for LCD & DLP Displays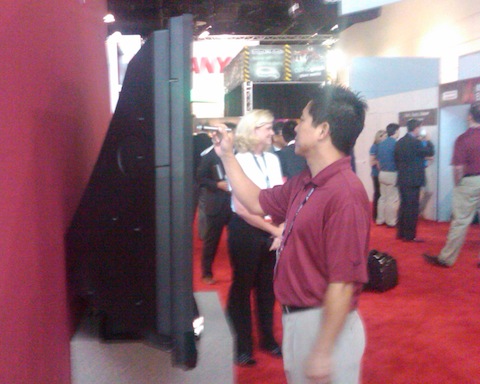 With the experience of our customers and our own reviews we are comfortable making the following recommendations for very satisfactory operation of the eBeam Edge on Flat panel displays, and rear-projection systems. Please remember, this is not sanctioned or authorized by the manufacturer but we do not believe that using the system in this way denotes "jailbreaking" or voids the warranty.
For best results on LCD displays or Flat panels that are rear projection systems:
* Install a minimum of 1.5″ from the outside edge of the screen where possible
* Install the eBeam Edge smartboard system at the bottom center of the display and ensure that the eBeam Edge is not blocked by a bezel or some other obstacle on the edge.
* Ideally the screen should be 40-50″
* LCDs with LED backlight performs best
* a 1/4″ bezel on the frame works best
* Make sure that you mount the system sturdily and calibrate the system to the display while the display is operating
* Performance can change over time with the temperature of the screen. You may want to recalibrate once the display is "warmed up"
* Enjoy! Using an eBeam in this application is a little bit of magic and we have had successful presentations around the world using this solution.
Coming soon:
We will have a suction cup mount and a clip mount for sale to support your portable eBeam Edge mounting needs. Stay tuned!